NYC Guerrilla Marketing Agency
When your average marketing and advertising just won't do, our NYC Guerrilla Marketers are ready to get any job done!
Guerrilla Marketing has become ever more used for one simple reason: it works like no other marketing: to maximize your profits and minimize your investment.
Small and large businesses alike have applied the principles of Guerrilla Marketing because of their simplicity, common sense, and record of being proven in action. One of the main reasons that businesses fail is lack of marketing insight. Guerrilla Marketing provides that insight.
Guerrillas are never stopped by analysis paralysis. Don't let it stop you.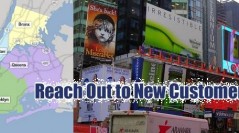 Many business owners realize the simplicity of marketing, but just don't know where they should begin. Analysis paralysis stops them in their tracks. So many tasks. Where to start? So they don't start. They know what they must do, but don't really have a plan, so they make disconnected efforts to achieve a hazy goal. When they don't see encouraging results right off the bat, they lose confidence, if any existed in the first place.
If there's any correct time to start, it's right now. If there's any proper place, it's right where you are. You'll never feel you are completely ready, so you may as well begin immediately.
If there's any secret to be learned, it's the secret of taking action and never stopping.
Marketing is not an event, but a process. How long does the process last?
An insight for you to embrace is that a guerrilla marketing attack is neverending. It has a beginning, a middle but never an end, for it is a process. You improve it, perfect it, change it, even pause in it. But you never stop it completely.
Of all the steps in succeeding with a guerrilla marketing attack, maintaining it takes the most time. You spend a relatively brief time developing the attack and inaugurating it, but you spend the life of your business maintaining, monitoring and improving your attack. At no point should you ever take anything for granted. At no point should you fall into the pit of self-satisfaction because your attack is working. Never forget that others, very smart and motivated competitors, are studying you and doing their utmost to surpass you in the marketing arena.
Growing takes work. Leaping takes courage. Effective marketing takes experience. We will guide you every step of the way –  from brand and identity development to marketing and communications to advertising, public relations and new media to website design and development to success.
Your customers expect to be targeted by advertising on a daily basis, but they most likely don't expect to witness or participate in a guerrilla marketing event. This element of surprise may well be guerrilla marketing's greatest asset: It catches prospects off-guard for both high impact and high recall. Just as important, the element of surprise can be used to extend a traditional ad campaign by reintroducing your marketing message in a totally new context.
NYC Guerrilla Marketing
Guerrilla marketing isn't a silver bullet providing a single solution for every need. However, it has proven itself to be a valuable communications and outreach tool. And in today's noisy environment, the splash of a guerrilla marketing effort may be the right way to cut through the clutter.