NYC Advertising Agency
Advertising in New York City is more then just an advertising agency, we have grown into a tremendous NYC Advertising Network specializing in on-line advertising and all aspects of interactive marketing – Website planning, Promotion, Strategic Planning, Email Campaigns and Search Engine Optimization.
We continuously build relationships and partner with local New York City advertising channels and established distribution hubs to expand our reach and effectiveness for delivering your campaign in the NYC area. Our goal is complete saturation and effective dissemination of information, ad placements and brand awareness in the NYC area. NYC is our backyard, and building your brand and business is our goal.
Local NYC Advertising Agency
New York City is known for our Pennysavers and Penny Pinchers, which are free door to door circulars and online web communities. We also partner with other NYC focused websites and social networks that have high traffic and daily visits.
Besides Pennysavers and Penny Pinchers, Advertising in New York City has an in-house staff dedicated to article marketing, blog marketing and advertising, message forums and classified site postings and many other community centric marketing methods. Advertising in New York City also has top notch, on call Guerrillas ready to stage the next Guerrilla Marketing mission in NYC.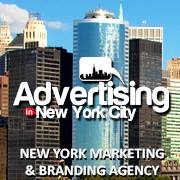 Reaching your target market in NYC can be a mission many other advertising agencies can promise to do, but at Advertising in New York City we actually have the ability to deliver the results you need. We also specialize in Advertising Online and our local NYC Advertising Experts can help you start, grow, or dominate the local competition.
We only work with a select amount of clients from each industry within the NYC market so if you want the best New York City Advertising Company to back your online and offline advertising efforts then contact us now.
Other services we provide that can assist you with advertising your business in NYC are:
Street Marketing
Flyer Distribution
Graphic Design
Drone Videos
Youtube Video Creation & Video Marketing
Search Engine Marketing – Paid Search Campaign Management
NYC Search Engine Domination
Web Development & Custom Programming
Event Promotion & Management
Our team is made up of dozens of talented, NYC based professionals with 1 goal – to make your business more successful!
If you would like to learn more about Advertising in New York City and our capabilities, and allow us to learn more about you please contact us know. Our NYC Street Marketing teams go out weekly, so contact us if you have interest in blanking NYC with your marketing material.